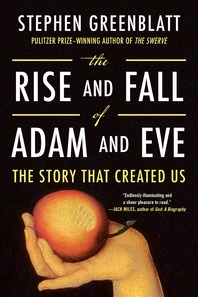 The Rise and Fall of Adam and Eve
The Story That Created Us
27 November 2018
Territory Rights — Worldwide including Canada, Singapore and Malaysia, but excluding the British Commonwealth.
Description
"Endlessly illuminating and a sheer pleasure to read." —Jack Miles, author of God: A Biography

Daring to take the great biblical account of human origins seriously, but without credulity.
The most influential story in Western cultural history, the biblical account of Adam and Eve is now treated either as the sacred possession of the faithful or as the butt of secular jokes. Here, acclaimed scholar Stephen Greenblatt explores it with profound appreciation for its cultural and psychological power as literature. From the birth of the Hebrew Bible to the awe-inspiring contributions of Augustine, Dürer, and Milton in bringing Adam and Eve to vivid life, Greenblatt unpacks the story's many interpretations and consequences over time. Rich allegory, vicious misogyny, deep moral insight, narrow literalism, and some of the greatest triumphs of art and literature: all can be counted as children of our "first" parents.
Reviews
"Brilliant enough to make me seethe with envy." — Simon Schama, New York Times Book Review
"Almost dizzying in its scope; Greenblatt draws from history, religion, art and science, and he writes about all of these fields with infectious enthusiasm. It's a strikingly intelligent book, but it's also accessible; he's a clear, unpretentious writer who can hardly hide his fascination with the subject." — Michael Schaub, NPR Books
"This is the kind of book—lucid and delightfully infuriating—that I wish more academic superstars would write." — Anthony Domestico, Boston Globe
"Most modern theories of human civilisation are, fundamentally, about the need to deal with mortality. Stephen Greenblatt's thrilling new book, however, on the peregrinations of the story of Adam and Eve—the world's most influential attempt to arrest the infinite regress of creation—shows just how central the question of human origins has been to pre-scientific conceptions of humanity." — Tim Whitmarsh, Guardian
"A rare combination of wide-ranging erudition with verve of exposition. Even the most familiar materials are seen in a fresh, and humane, light. This is a book that makes one understand why old myths matter, even when they are perceived unblinkingly as myths." — Robert Alter, author of Pen of Iron: American Prose and the King James Bible and translator of The Hebrew Bible
"Greenblatt brings a storyteller's sense of drama to the turbulent life of [Milton] and, as he does with Augustine and his mother, views the making of a major work… through the lens of [Milton's] private and public struggles." — Marina Warner, New York Review of Books
"With all his usual clarity and freshness, one of our foremost literary historians and critics sets out a comprehensive picture of how a story foundational for European civilisation developed, from its origins in Western Asia to its much-contested place in the post-Darwinian world.… This is a rich, learned, lively book, which should engage all who are interested in the history of our imagination and the interweavings of faith, poetics, and philosophy." — Rowan Williams, former archbishop of Canterbury
"No one does intellectual history quite like Greenblatt.… In The Rise and Fall of Adam and Eve, he turns his attention to one of humanity's founding stories. Expect a nuanced, careful, thrilling exploration of the story's lasting influence." — Forward
"That Greenblatt is himself an extraordinary storyteller will come as a surprise to no one familiar with his books. And here he treats us to absorbing accounts of Augustine and Milton—the anchors of the book—as well as Du¨rer, Darwin, and many others." — Paul A. Kottman, Los Angeles Review of Books
"Powerful and capacious." — Carl Rollyson, San Francisco Chronicle