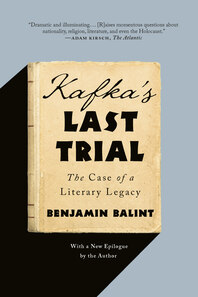 Kafka's Last Trial
The Case of a Literary Legacy
November 2019
Territory Rights — Worldwide including Canada, Singapore and Malaysia, but excluding the British Commonwealth.
Description
Winner of the 2020 Sami Rohr Prize for Jewish Literature

"Dramatic and illuminating…[R]aises momentous questions about nationality, religion, literature, and even the Holocaust." —Adam Kirsch, The Atlantic
When Franz Kafka died in 1924, his loyal friend Max Brod could not bring himself to fulfill Kafka's last instruction: to burn his remaining manuscripts. Instead, Brod devoted his life to championing Kafka's work, rescuing his legacy from both obscurity and physical destruction. Nearly a century later, an international legal battle erupted to determine which country could claim ownership: the Jewish state, where Kafka dreamed of living, or Germany, where Kafka's three sisters perished in the Holocaust? Benjamin Balint offers a gripping account of the controversial trial in Israeli courts—brimming with dilemmas legal, ethical, and political—that determined the fate of Kafka's manuscripts.
Reviews
"Fascinating and forensically scrupulous." — John Banville, The Guardian
"A tale pitting two Goliaths against one octogenarian David, untangled in exacting, riveting detail.… [A] must-read." — Rebecca Schuman, Slate
"Thoughtful and provocative." — Ruth Franklin, The Wall Street Journal
"A gifted cultural historian with a scholarly sensibility." — Lev Mendes, The New York Times Book Review
"Absorbing.… Balint elegantly intercuts courtroom scenes with episodes from Kafka's biography and cultural afterlife. He brings out every paradox of a judicial process that tried to tie down this most ambivalent of authors, the ultimate 'disaffiliated pariah,' to a fixed identity.… Balint's scrupulous and sardonic prose makes you love Kafka, and dread the law." — The Economist
"Though Benjamin Balint's masterful hunt for Kafka's rightful ownership begins as a local dispute in an Israeli family court, it soon thickens into modernity's most bitterly contentious cultural conundrum. Who should inherit Franz Kafka? The woman into whose hands his manuscripts fortuitously fell? Germany, the nation that murdered his sisters but claims his spirit? Israel, asserting a sovereign yet intimate ancestral right? Searing questions of language, of personal bequest, of friendship, of biographical evidence, of national pride, of justice, of deceit and betrayal, even of metaphysical allegiance, burn through Balint's scrupulous trackings of Kafka's final standing before the law." — Cynthia Ozick, author of Foreign Bodies
"Thrilling and profound, Kafka's Last Trial shines new light not only on the greatest writer of the twentieth century and the fate of his work, but also on the larger question of who owns art or has a right to claim guardianship of it. Benjamin Balint combines the sharp eye of the courtroom journalist with the keen meditations of a literary and cultural thinker, and his research and lively intelligence deliver insights on every page." — Nicole Krauss, author of Forest Dark
"Kafka's Last Trial is a fascinating inquiry into—and meditation on—the nature of artistic genius and the proprietary claims any one individual or country has on the legacy of that genius. Benjamin Balint is both a superb investigative journalist and a gifted cultural critic. This is that rarest of books: a scholarly work that is also compulsively readable." — Daphne Merkin, author of This Close to Happy: A Reckoning with Depression
"Superb.… Beautifully crafted, with just the right ratios of empirical-legal information, intellectual history, critical awareness of Kafka and his work, and wise reflection. It is obviously the product of admirably patient research and rare dedication to quality control." — Stanley A. Corngold, professor emeritus of German and Comparative Literature, Princeton University
"A highly entertaining story of literary friendship, epic legal battles and cultural politics centered on one of the most enigmatic writers of the 20th century.… [A]n exquisitely human drama peopled with an eccentric cast of characters that beautifully evokes the early days of Israel, the sadness of the exiles, and the long shadow cast by the Holocaust." — Guy Chazan, Financial Times
Awards
Winner — Sami Rohr Prize for Jewish Literature, 2020