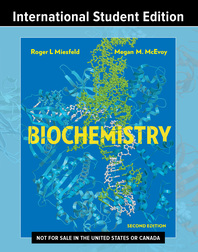 Biochemistry
Second International Student Edition
4 June 2021
Territory Rights — International Edition: World excluding the USA, its dependencies, and Canada.
Description
A rigorous and relatable text for today's biochemistry student.
Drawing on more than three decades of teaching experience, Roger Miesfeld and Megan McEvoy created a book that is both a learning tool for students and a teaching tool for instructors—one that delivers exceptionally readable explanations, stunning graphics and rigorous content. Relevant everyday biochemistry examples make clear why biochemistry matters in a way that develops students' knowledge base and critical thinking skills. The second edition includes exciting new Your Turn critical thinking pedagogy, a thoughtful balance of biology and chemistry, a compelling ebook featuring 3D molecular images, videos, animations, and more.
Digital Teaching and Learning Tools
Smartwork5 online assessment tool
Helps students visualize biochemistry and practice critical thinking outside the classroom. Now including NEW Molecular Exploration video-based questions, 2D-drawing and multistep questions, animation-based activities, and more.
Norton enhanced eBook
The ebook includes new multimedia content that engages students and demonstrates biochemical concepts. Many of the 2D molecular images are presented as 3D exploration videos to clearly demonstrate structure–function relationships. Share lecturer notes and comments directly in the Ebook.
Animations and videos
These 3D animations and exploration videos provide stunning depictions of molecular processes and interactions that bring biochemistry to life. Process animations enrich students' understanding of the most important biochemical processes.