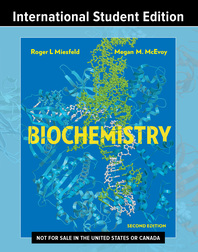 Biochemistry
Second International Student Edition
6 April 2021
Territory Rights — International Edition: World excluding the USA, its dependencies, and Canada.
RIGOROUS YET READABLE

Give students more than a reference book. Most biochemistry textbooks are written to be encyclopedias for instructors to reference; accessibility to an undergraduate audience is an afterthought. Biochemistry focuses on teaching students the big themes in biochemistry: structure–function relationships, the interdependence of energy conversion processes and the role of signal transduction in metabolic regulation. This is paired with a thorough and unmatched visual programme, unusually clear yet rigorous explanations, and a thoughtful balance of biology and chemistry. Using the feedback of over 100 instructors, the Second Edition includes new coverage emphasising the chemical mechanisms underlying biological processes, extensive animated 3D molecules throughout the ebook, new Your Turn critical thinking pedagogy, and new research on topics such as CRISPR and cryo-EM.?

HELPING STUDENTS DO MORE THAN JUST MEMORISE

Based on more than three decades of teaching combined, Roger Miesfeld and Megan McEvoy know that seeing the relevance of biochemistry to everyday life motivates students to put more time into learning the basic concepts and, as a result, they perform better in exams. The text, art and media do more than any other textbook to clearly and thoroughly introduce biochemical concepts in the context of "everyday biochemistry" in a way that develops students' mastery of basic concepts and builds their critical thinking skills.

TRANSITION TOOLS TO HELP MAKE THE SWITCH

Extensive resources for class prep, in-class instruction and homework provide instructors with the support they need to make the switch. The Smartwork online homework course includes questions that promote critical thinking and applications such as the industry's first 3D molecular viewer-based questions, NEW 2D drawing and multi-step questions, animation-based activities, an expanded suite of chemistry focused questions and more. The Interactive Instructor's Guide provides primary literature suggestions, active learning activities, multimedia resources, and other resources for in and outside of class. All of the resources are created and peer-reviewed by biochemists actively teaching courses in undergraduate biochemistry, resulting in the highest quality content for instructors and students.