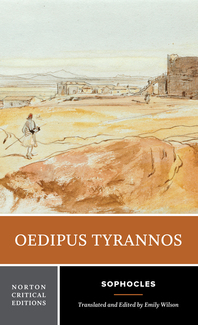 Oedipus Tyrannos
First Edition
September 2021
Description
This Norton Critical Edition includes:
Emily Wilson's superb translation of Sophocles' best-known play, accompanied by her engaging introduction, translator's note and explanatory footnotes.
Comparative ancient sources that provide insight into the many different approaches to the Oedipus myth, inviting readers to see what is distinctive about Sophocles' approach. These nine sources are followed by the final scene of Rita Dove's modern verse tragedy, The Darker Face of the Earth, which follows closely the plot of Oedipus Tyrannos.
Critical essays by Froma I. Zeitlin, Edith Hall, Eric Dugdale, Kirk Ormand, Joshua D. Sosin, Martha C. Nussbaum, Michael Andrew Kicey and Teresa M. Danze, focusing on the play's central themes.
A chronology of Sophocles' life and work and suggestions for further reading.

About the Series
Read by more than 12 million students over fifty-five years, Norton Critical Editions set the standard for apparatus that is right for undergraduate readers. The three-part format—annotated text, contexts and criticism—helps students to better understand, analyse and appreciate the literature, while opening a wide range of teaching possibilities for instructors. Whether in print or in digital format, Norton Critical Editions provide all the resources students need.
Reviews
"The Norton Critical Edition of Sophocles' Oedipus Tyrannos offers an ideal introduction to the most famous and influential of all Greek tragedies. Emily Wilson's translation is fluid and compelling, and the surrounding materials present a wealth of information and insight suited both to new and more experienced readers." — Joshua Billings, Princeton University