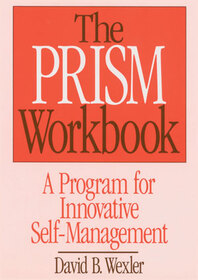 The PRISM Workbook
A Program for Innovative Self-Management
Description
This workbook has been designed to be used in conjunction with a treatment programme for troubled adolescents, described in The Adolescent Self. It covers such techniques as self-assertiveness, active listening, peer pressure, cue therapy and self-talk.
Welcome to PRISM!
Do you ever do things you later regret, such as use drugs, get into fights, run away, steal things, or say things you do not mean? If so, doing the exercises in the PRISM workbook can help you develop better control over your behavior. If you get easily depressed, angry or anxious, PRISM will help you develop better control over your thoughts and feelings.
The basic building blocks for self-management are:
Self-Talk
Self-Soothing
Self-Expression
Putting these together will give you the power to take charge of your life, to stop doing things automatically, and to increase your options.