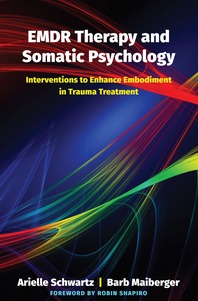 EMDR Therapy and Somatic Psychology
Interventions to Enhance Embodiment in Trauma Treatment
Description
A guide to help EMDR practitioners to integrate somatic therapy into their sessions.
This book is written to meet the growing interest in a synthesis of somatic psychology with EMDR Therapy as a comprehensive trauma treatment model. Interventions are presented as scripted protocols to enhance embodiment within the 8-phases of EMDR Therapy. This integrative treatment model teaches therapists how to increase the client's capacity to sense and feel the body which is a necessary part of helping the client work through traumatic memories in a safe and regulated manner in order to facilitate lasting integration.
Grounded in the science of interpersonal neurobiology, therapists are guided to increase their own embodied awareness which provides a foundation for an attuned therapeutic rapport, a core component of successful trauma treatment. In all, readers will come away with advanced ways to help clients reclaim their lives from the costs of PTSD.