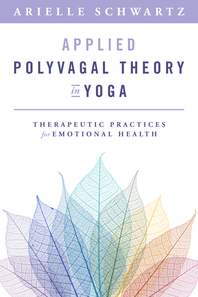 Applied Polyvagal Theory in Yoga
Therapeutic Practices for Emotional Health
Description
Treat trauma holistically with the combined applications of yoga and polyvagal theory.
This book focuses on the intersection of polyvagal theory, yoga and psychotherapy by weaving together the wisdom tradition of yoga with neuroscience, attachment theory, somatic psychology and traumatology. The application of polyvagal theory allows practitioners to compassionately support growth by enhancing the health of the autonomic nervous system, while therapeutic yoga allows one to attend to the interrelationships between mind, emotions, physiology and behaviour.
Applied polyvagal theory in yoga provides conscious breathing, vagal toning, mindful movement and meditation practices that aid in rewiring the nervous system. Readers will discover how to help both clients and themselves cultivate a felt sense of ease during times of safety; enhance their capacity to handle challenges with equanimity; and reclaim their ability to recover from stress swiftly and efficiently. Applied Polyvagal Theory in Yoga offers practitioners a new and effective way to support clients who are stuck in a trauma response mode.