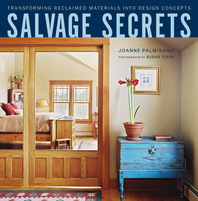 Salvage Secrets
Transforming Reclaimed Materials into Design Concepts
Description
A striking how-to guide and four-color visual tour presenting design possibilities using a range of salvaged materials.
Sustainability and conservation are buzzwords in the construction and renovation of homes today. It's therefore no surprise that "salvage design"—reusing old building materials and other types of recycled goods—is becoming a popular technique, both for its environmentally friendly functionality and for its unique design aesthetic.
Here, award-winning designer Joanne Palmisano presents an inspiring, practical guide that is also a striking visual tour of the full range of interior design possibilities incorporating salvaged materials. From using recycled wood as vintage flooring or accent beams to reclaiming stone as a kitchen island or fitting salvaged tiles into a bathroom backsplash, the book covers a range of materials and design concepts for different rooms and supplies technical information about what to keep in mind (size, shape, color, structural needs, etc.), how to use the salvaged materials most effectively, and where to go to find them.

For more information, check out the Salvage Secrets blog  to explore the online world of all things salvaged, recycled, upcycled, vintage and reclaimed.
Reviews
"[A]n invaluable first step in the salvage-for-design journey." — Fine Homebuilding
"Even if you're a permanent fixture at your local salvage shop, this book is worth a look for the envy-inducing design ideas alone." — Old House Journal
"Page after page of beautiful photographs by Susan Teare combined with inspiring design stories illustrates how creative and highly aesthetic the world of salvage architecture and design can be…. Joanne demonstrates throughout her book the ease with which recycling and reuse can be incorporated with function and style. Architects, designers and do-it-yourselfers should all have a copy of this book in their home design library." — New England Home Magazine
"[A] great resource for professional or amateur designers who have a resourceful, green approach to design projects.... I would definitely recommend picking it up if you can!" — Apartment Therapy
"I was hooked immediately…Salvage Secrets kept me glued to every page…I do believe the secret is out: salvage is spectacular, in so many ways...and so is Salvage Secrets." — Skaie Knox, DiggersList.com
"[O]ffers a wealth of ideas for using old objects and materials in new ways.... [S]hows the wide range of salvageable material available and what to do with it." — Eye on Design by Dan Gregory blog
"If you are looking for a holiday gift for your favorite thrifter/do-it-yourselfer, this book is a must. It features hundreds of pages of repurposing inspiration." — Goodwill Industries of Northern New England
"It is an ideal book for anyone considering salvage in design.... Often books on design are either practical and plain or only full of photographs with little guidance on how to create the same look in one's own home. Salvage Secrets by Joanne Palmisano, with photographs by Susan Teare manages to be a design book with both." — Portland Book Review
"[I]nspiring ideas for anyone planning on using salvaged materials in their own home." — Scotland on Sunday, Style Bible (UK)
"Palmisano presents a thorough introduction to the world of salvage design, with just enough practical information to get even a beginner started. Dozens of color photos of interiors that include reclaimed elements help bring the author's points to life…. Armed with ideas from the book and some great places to shop (or sift through), you're well on your way to creating a unique, comfortable, earth-friendly home." — SuCasa Magazine
"In this age of recycling and conservation, it makes sense to use our creativity to find new ways of using what once would have been discarded without a second thought. Replete with appealing photos by Susan Teare, this is a visually attractive manual on how to turn someone else's junk into our treasures." — Woman Around Town
"A sustainable builder's bible... Page after page of homes whose owners have included architectural recycling into their design proves that building from salvage materials can create jaw-dropping beauty and help save our environment at the same time. Salvage Secrets shares everything you need to know about what, how, and where materials can be identified, found, and reused. Not only will this book be a resource for those in the building industry, but inspiration for anybody who believes a hammer and some creativity go hand in hand." — Shannon Quimby, former HGTV designer and salvage design expert (www.shannonquimby.com)
"I wish I had read Salvage Secrets before undertaking a huge renovation project recently on our family home. I suppose I had heard of architectural salvage before, but I thought it was something only designers did, something much too complicated for us regular folk." — Life@Home (Timesunion.com)
"Drawing on her personal experience as well as advice from a posse of experts, Joanne Palmisano shows us that being sensitive to the environment does not mean sacrificing style or good design. Recycled, reclaimed, and salvaged materials and furnishings can be chic, beautiful, and sustainable. Salvage Secrets is a must—an innovative design resource filled with unique and affordable ideas." — Kim Deetjen, ASID, principal, TruexCullins Interiors