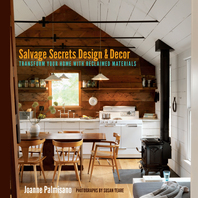 Salvage Secrets Design & Decor
Transform Your Home with Reclaimed Materials
Description
A visually sumptuous idea book, showcasing an eclectic array of interior design possibilities using salvaged goods.
Following up on her celebrated first
Salvage Secrets
book, which
Fine Homebuilding
called "An invaluable first step in the salvage-for-design journey," here salvage design guru Joanne Palmisano takes readers further, exploring a wealth of smaller-scale interior design and decor concepts.
Bottle caps turned into a kitchen backsplash, old bed springs reinvented as candle holders, and a recycled shipping container-turned-guesthouse are just a few examples of the innovative repurposing of second-hand items that readers will discover. From retro and modern to classic, "cottage," and urban chic, Palmisano takes readers on a sumptuous visual journey featuring unique salvage ideas in an eclectic array of styles, for every room in the house—kitchens and dining rooms, bedrooms and bathrooms, living rooms and dens, and entryways and outdoor areas.
The journey continues with a sampling of cutting-edge retail spaces, hotels, cafes, and boutiques across the country that incorporate salvage into their designs, such as Industrie Denim in San Francisco, Stowe Mountain Lodge in Stowe, Vermont, and Rejuvenation in Portland. Profiles of thirteen "salvage success stories" are also included, showcasing the imaginative designs of creative homeowners. And lastly, fourteen easy, do-it-yourself projects are included at the back of the book (with step-by-step instructions), not to mention a comprehensive "Where to Find Salvage" resource section.
Packed with over 350 color photos,
Salvage Secrets Design & Decor
offers a trove of salvage ideas to inspire, proving that you need look no further than your local rebuild center, architectural salvage shop, or flea market to transform your living space.
Reviews
"When Joanne Palmisano has a secret, everyone wants to know it. . . . There's no shortage of ideas to salvage in this inspirational book . . . . [I]t's all a homeowner needs to transform a living space. . . . Her ideas are completely unexpected and fun, from bottle caps as a kitchen backsplash to shipping containers that morph into great houses. . . . Best of all, she gets the reader moving with 14 back-of-the-book DIY projects and a glossary of where to find salvaged goods as a valuable resource." — Florida Weekly
"With [Joanne Palmisano's] help, salvage can be beautiful." — SuCasa Magazine
"[A] treasure trove of design ideas…" — The Daily Basics
"This salvage-savvy book will make you think twice about buying new. . . . [C]hock-full of creative projects. . ." — Do It Yourself Magazine
"[Palmisano] takes readers on a sumptuous visual journey featuring unique salvage ideas for every room in the house. . . . Take a look at this photo-packed book and be inspired to visit your local rebuild center, architectural salvage shop, or flea market.  Whether your style is retro, modern, or something in-between, salvaged and repurposed materials can help you achieve the look you want." — New England Home
"[A] fantastic introductory guide to salvage that is sure to set the greenest of beginners onto a path of salvage stardom. . . . With nearly 300 pages full of beautifully crisp photographs, resources, and design tips, Palmisano's book offers a wide sampling of the many ingenious ways to repurpose materials and save them from ending up in the rubbish bin." — Inhabitat
"You're lugging a big tote to antiques row, right? Then you'll want room for one of Joanne Palmisano's square, photo-packed guides. Or maybe you're one of those people who wears a fanny pack into dusty resale and salvage haunts, leaving two arms free to hoist potential treasures for inspection. You'll still want Palmisano in your corner." — Susan Clotfelter, The Denver Post
"Joanne's enthusiasm for salvage is contagious, and the creative design stories she shares—showcased in stunning photographs throughout the book—can't help but inspire." — Cari Cucksey, host of Cash & Cari and owner of RePurpose
"Emerging from today's design landscape that can appear contrived, pristine, and disposable, Salvage Secrets Design & Decor is a refreshing demonstration of how reclaimed materials can translate into an elevated yet deeply personal design statement. Palmisano's approachable, practical writing combined with Teare's engaging photography make this book a must-read for anyone serious about sustainable and personal design." — Aaron Danzig, Director of Trade Marketing, Williams-Sonoma, Inc.
"Salvage Secrets Design & Decor is an addictive read, offering a vast collection of ideas, inspiration, and examples of some of the most inventive salvage design projects across the country. An invaluable resource for the novice and expert alike, with something to offer for both the substantial and shoestring budget." — Tereasa Surratt, author of Found, Free & Flea and A Very Modest Cottage