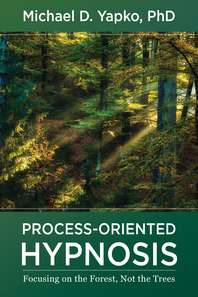 Process-Oriented Hypnosis
Focusing on the Forest, Not the Trees
Description
Getting at client issues by focusing on the process of symptom formation rather than on the details of the problem.
In Process-Oriented Hypnosis, internationally recognised psychologist, Michael D. Yapko provides clinicians with a new framework for utilising hypnosis with clients. Yapko encourages clinicians to take a broader perspective, in which patterns rather than individual symptoms are the emphasis of therapy. He offers numerous insights into ways clinicians can home in on the process of how people come to suffer various types of emotional distress. Beyond these insights, Process-Oriented Hypnosis provides highly practical information and specific examples for integrating this innovative perspective into clinical work.
The key patterns of human experience are central to the first section of the book, providing a sound conceptual foundation and a wide range of examples. In the second section, Yapko provides ten richly structured hypnosis session transcripts for clinicians to insightfully adapt to their clients' needs.
Process-Oriented Hypnosis offers clinicians a fresh perspective for working with clients that can be integrated into many different treatment models.