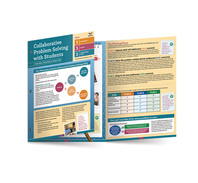 Collaborative Problem Solving with Students
Description
When students miss class, forget homework and misbehave, they lack the skill rather than the will to succeed. With this philosophy in mind, this Guide provides a clear framework for working with students to address challenging behaviour. This Guide offers proven steps for solving a problem collaboratively with a student:
Empathise: Clarify the student's concern
Share your concern
Collaborate: Brainstorm, assess and choose a solution to try
From youth psychology experts J. Stuart Ablon and Alisha R. Pollastri, this easy-to-follow Guide is an essential tool for tackling challenging student behaviour effectively, collaboratively and compassionately.

Each 8.5" x 11" multi-panel guide is laminated for extra durability and 3-hole-punched for binder storage.