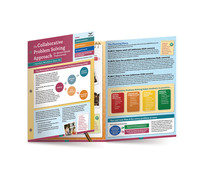 Collaborative Problem Solving for Mental Health Professionals and Parents
Description
An essential guide to the Collaborative Problem Solving approach for anyone working with children outside of a school setting.
J. Stuart Ablon and Alisha R. Pollastri, authors of The School Discipline Fix, present this Quick Reference Guide to their Collaborative Problem Solving (CPS) approach for changing child behaviour in mental health and home settings. This must-have resource distills the multistep approach into six easy-to-follow panels, in the convenient form of an 8.5"×11" laminated card for in-the-moment reference.
Here, clinical staff, parents, guardians and other CPS trainees will find crucial information about the guiding philosophy of the approach; the cognitive skills that contribute to children's behaviour; the key aspects of a CPS assessment; information on planning and prioritising the treatment; and step-by-step instructions for completing CPS itself.