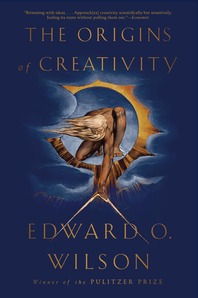 Description
"Brimming with ideas. . . . The Origins of Creativity approach[es] creativity scientifically but sensitively, feeling its roots without pulling them out."—Economist
In a stirring exploration of human nature recalling his foundational work Consilience, Edward O. Wilson offers a "luminous" (Kirkus Reviews) reflection on the humanities and their integral relationship to science. Both endeavors, Wilson argues, have their roots in human creativity—the defining trait of our species. By studying fields as diverse as paleontology, evolution, and neurobiology, Wilson demonstrates that creative expression began not 10,000 years ago, as we have long assumed, but more than 100,000 years ago in the Paleolithic Age. A provocative investigation into what it means to be human, The Origins of Creativity reveals how the humanities have played an unexamined role in defining our species. With the eloquence, optimism, and pioneering inquiry we have come to expect from our leading biologist, Wilson proposes a transformational "Third Enlightenment" in which the blending of science and humanities will enable a deeper understanding of our human condition, and how it ultimately originated.
Reviews
"Brimming with ideas . . . . The Origins of Creativity approache[s] creativity scientifically but sensitively, feeling its roots without pulling them out." — Economist
"As always, Wilson tosses off astonishing insights with charming ease (he's a master of the lyrically short sentence). These profoundly humane meditations on nature, creativity, and our primal yearnings will delight his longtime fans and provide newcomers with the perfect introduction to the career and ideas of one of our most distinguished living scientists—whose high school nickname, I was enchanted to learn, was 'Snake Wilson.'" — Jim Holt, author of Why Does the World Exist?
"From our senior statesman of science comes this fascinating, eloquent, and important reflection on the vital kinship between the humanities and the sciences, the well of creativity fueling them both, and our need as a species to combine their truths to deal with today's demanding problems. It's a message that couldn't be more timely." — Diane Ackerman, author of The Zookeeper's Wife
"Professor Wilson has managed to stay interesting and provocative decade after decade, and this latest volume is no exception. It will make you think long and hard and fruitfully!" — Bill McKibben, author Radio Free Vermont
"Within The Origins of Creativity, E.O. Wilson returns to his most fertile—and most controversial—ideas: the role of biology within human behavior. Always forging ahead, he considers our most abstract behaviors: the apprehension of beauty and our yearning to recreate it. The grand result is a wholly new take on how even our most monumental ideas trace their origins to the organic expression of our human biology." — Hope Jahren, author of Lab Girl
"With his trademark boundless intellect and elegant writing, Wilson argues that we need both the sciences and the humanities in order to understand the deep origins of what makes us human." — Alan Lightman, physicist, novelist, and professor of the practice of the humanities at MIT
"Wilson makes a case for blending an understanding of the sciences into the humanities in his latest work, raising provocative questions in the process." — Publisher's Weekly
"Luminous. . . . A concise, thoughtful exploration of how human understanding will be enhanced by 'a humanistic science and a scientific humanities.'" — Kirkus Reviews