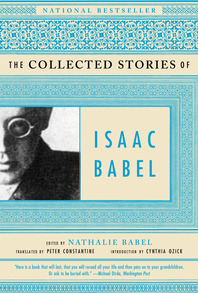 The Collected Stories of Isaac Babel
November 2002
Territory Rights — Worldwide including Canada, but excluding the British Commonwealth.
Description
"A book that will last, that you will reread all your life and then pass on to your grandchildren. Or ask to be buried with."—Michael Dirda, Washington Post
Following the historic publication of Norton's The Complete Works of Isaac Babel in the fall of 2001, The Collected Stories of Isaac Babel appears as the most authoritative and complete edition of his fiction ever published in paperback. Babel was best known for his mastery of the short story form—in which he ranks alongside Kafka and Hemingway—but his career was tragically cut short when he was murdered by Stalin's secret police. Edited by his daughter Nathalie Babel and translated by award-winner Peter Constantine, this paperback edition includes the stunning Red Cavalry Stories; The Odessa Tales, featuring the legendary gangster Benya Krik; and the tragic later stories, including "Guy de Maupassant." This will be the standard edition of Babel's stories for years to come.
Reviews
"[The Collected Stories of Isaac Babel] opened a door in my mind, and behind that door I found the room where I wanted to spend the rest of my life." — Paul Auster
"A monumental book." — Jonathan Rosen, New York Times Book Review
"A celebration of literary genius framed by twentieth-century tragedy…[Babel's stories] have an electrifying cumulative impact…He is a writer who stabs the mind and the heart and the inner eye with short, savage strokes." — Richard Bernstein, New York Times
"A triumph…Peter Constantine's translation is extraordinary." — James Wood, The New Republic