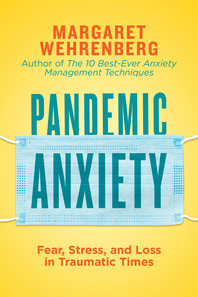 Pandemic Anxiety
Fear, Stress, and Loss in Traumatic Times
Description
From a leading writer on anxiety management, a timely and urgent book on navigating the "new normal".
With the global pandemic, our world changed seemingly overnight. Nobody knows when normalcy will return. Uncertainty engenders anxiety so it isn't surprising that now, without exaggeration, we can say that the world is seeing a new face of anxiety: fear of grocery stores or friendly strangers standing nearby on a hiking trail; fear of returning to offices as "the Great Pause" transitions to re-emerging work life; fear of sending our children back to school. This new anxiety also masks real experiences of grief and loss, making them unmanageable and; therefore, hard to navigate.
Margaret Wehrenberg, one of our most sensitive anxiety writers, offers context and strategies for dealing with the bewildering state of life today. With her trademark combination of neurobiological context, practical suggestions and engaging stories, Wehrenberg provides readers with just what is needed in these uncertain times: a way to deal with unprecedented challenges and the realities of the world as it is now.